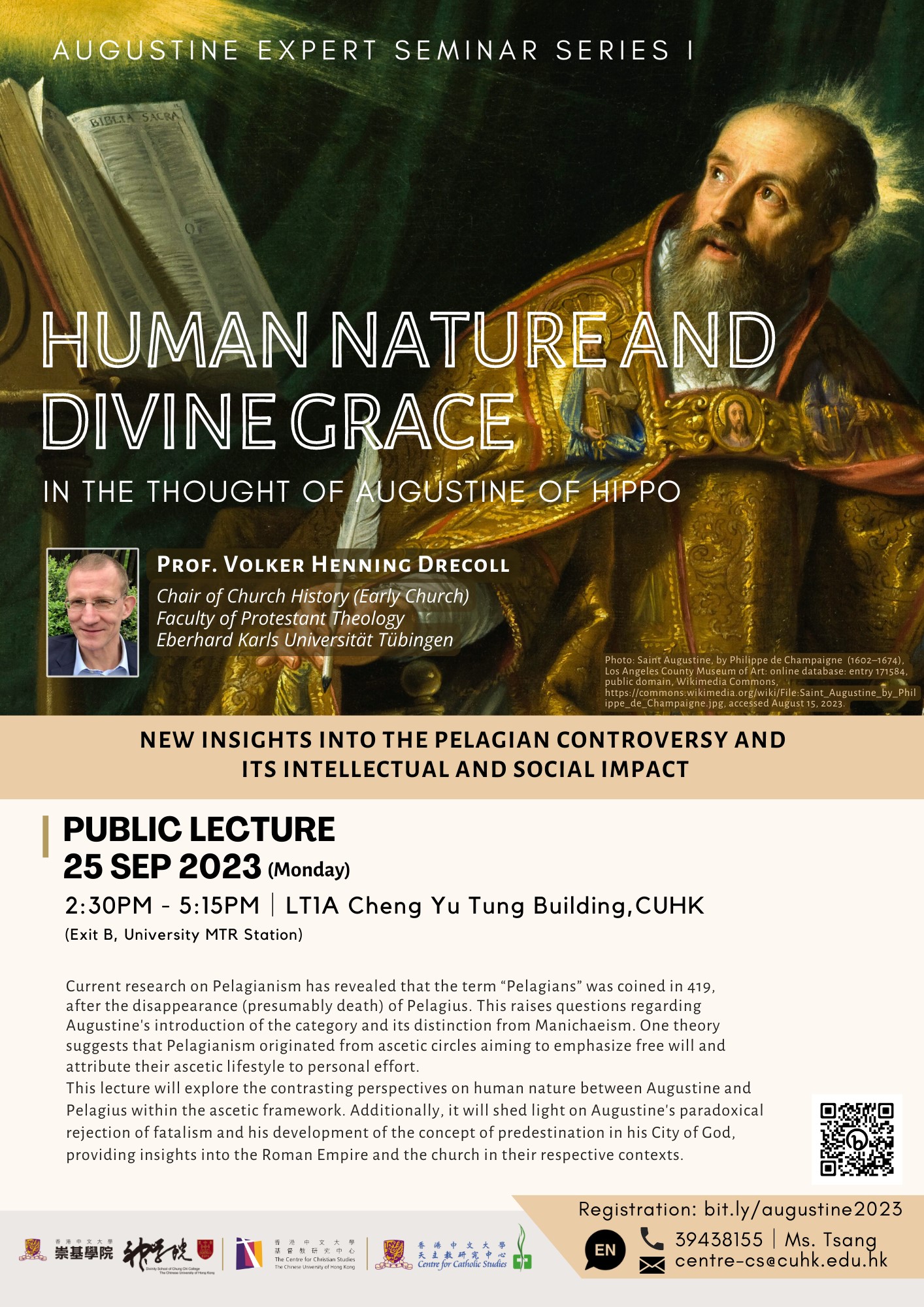 Date
25 Sep 2023
Expired!
Human Nature and Divine Grace in the Thought of Augustine of Hippo
Organizers:
Centre for Catholic Studies, Centre for Christian Studies, Divinity School of Chung Chi College
Augustine Expert Seminar Series I
Human Nature and Divine Grace in the Thought of Augustine of Hippo
New Insights into the Pelagian Controversy and its Intellectual and Social Impact
Speaker: Prof. Volker Henning Drecoll (Eberhard Karls Universität Tübingen)
Date: 25 Sept 2023 (Monday)
Time: 2:30 – 5:15 pm
Language: English
Venue:  LT1A, G/F, Cheng Yu Tung Building, CUHK [Exit B, University MTR Station]
Registration: http://bit.ly/augustine2023
Lecture Description:
Current research on Pelagianism has revealed that the term "Pelagians" was coined in 419, after the disappearance (presumably death) of Pelagius. This raises questions regarding Augustine's introduction of the category and its distinction from Manichaeism. One theory suggests that Pelagianism originated from ascetic circles aiming to emphasize free will and attribute their ascetic lifestyle to personal effort.
This lecture will explore the contrasting perspectives on human nature between Augustine and Pelagius within the ascetic framework. Additionally, it will shed light on Augustine's paradoxical rejection of fatalism and his development of the concept of predestination in his City of God, providing insights into the Roman Empire and the church in their respective contexts.
Inquiries: centre-cs@cuhk.edu.hk or 39438155 (Tel/Signal)